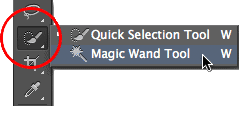 Using the outline output from Glyph Designer - it's possible to cut-out fonts from rich textures.
Use the Magic Wand tool to select the outlines of the glyphs. Don't forget the centers of letters like "O" or "g" etc...
With the Rust texture layer selected, on Mac, use ⌘ J to "cut" out the Glyphs from the rust.
Add a few layer styles - outline, shadow etc ... and you have great looking rich textured fonts !